About Carloni Chiropractic Offices Inc.
Our Mission
At Carloni Chiropractic Offices Inc., we strive to provide patients with the best chiropractic care available to help them achieve their highest potentials, both in health and in life. We aim to inspire our patients to become active participants in their own health.
Our History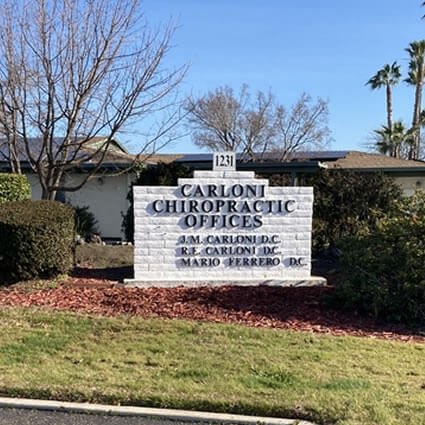 Dr. Carloni graduated from Life Chiropractic College West in 2003 and took over his father's practice, which had been in the same location in Stockton for over two decades before that. We are proud to have been serving the community for so long, and over that time our focus has evolved from a more personal injury-based practice to a true family practice. We want to help patients achieve long-term optimal wellness, function and mobility. We love providing care for every member of the family, as well as athletes of every age and skill level.
Dr. Ferrero graduated from Cleveland Chiropractic College in Los Angeles and has been with the practice since 1981, practicing with two generations of Carloni chiropractors.
In addition to our Stockton office, we have a satellite office in Woodbridge to better serve our patients in that area.
Our chiropractors work as a team, to offer you the best in care.
MEET THE DOCTORS
Our office is friendly and welcoming, and there is always a lot of laughter. We build relationships with our patients, many of whom we've known for over twenty years. We like our office to feel like you're going to a good friend's house—someplace that makes you feel happy, and where you know you're genuinely cared for.
In addition to a variety of chiropractic adjusting techniques, we offer a wide range of therapeutic modalities to support your healing, including:

Myofascial release
Cupping
Scraping (vibracussor)
Kinesiotaping
Laser
E-stim
Ultrasound
Custom orthotics
Laser therapy
Nutrition counseling
Non-surgical spinal decompression
Start Getting Better Today
Contact us today to schedule your first appointment, and start on your road to better health.
---
About Carloni Chiropractic Offices Inc. | (209) 957-1035