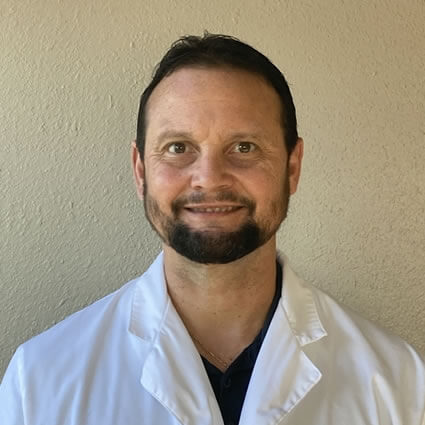 Meet Dr. Joshua Carloni
The Inspiration for Chiropractic
Dr. Carloni grew up with a father who was a chiropractor—Dr. Robert Carloni, who originally opened Carloni Chiropractic Offices Inc. many decades ago. Learning about chiropractic from his father was a huge inspiration for him to explore chiropractic as a career. And as he got older, Dr. Carloni experienced first-hand the excellent chiropractic care he received as a high-level athlete playing Division One collegiate baseball.
These experiences inspired him to help others achieve their maximum potentials in life through outstanding chiropractic care. He knew he wanted to work with young people, athletes and people with injuries so they could experience the same optimal health he has experienced.
Education and Training
Dr. Carloni received his bachelor's from San Diego State University in 1996, then returned to northern California to attend Life Chiropractic College West in Hayward. He earned his Doctor of Chiropractic Degree and was Board Certified in March of 2003. He also completed post-graduate education as a Certified Chiropractic Extremity Practitioner.
Since that time, he has completed extensive postgraduate studies in:
Nutrition
Extremity management and adjusting
Radiology
Neurology
Motor vehicle accident injuries
Sports injury
He has furthered his interest in nutrition in order to help patients maximize their health by overcoming nutritional deficiencies. He is the founder and owner of Alternative Nutrition Centers Inc.
EXPLORE CHIROPRACTIC
Bringing Care to Patients
After practicing in our original location for over a decade, Dr. Carloni opened our satellite office in Woodbridge to better serve our patients who had been driving to Stockton for care.
In His Spare Time
When he's not at the office, Dr. Carloni loves spending time with his wife and beautiful daughter. He also enjoys snow skiing, working out, mountain biking, and anything he can do outdoors. Another favorite hobby is restoring cars. The family loves their pets, Cupcake and Princess.
Start Today
Contact us today to schedule your first appointment. We look forward to welcoming you.
---
Dr. Joshua Carloni | (209) 957-1035