Chiropractic Care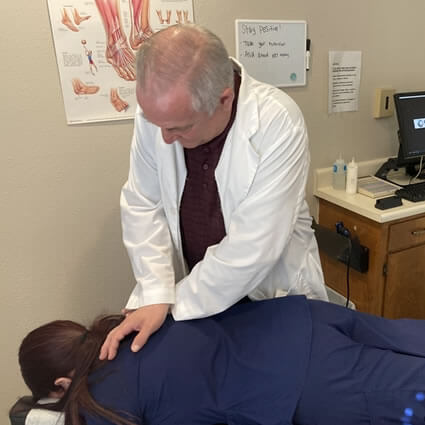 What Is Chiropractic Care?
Chiropractic care is a natural approach to restoring alignment to the spine and extremities to remove interference in the nervous system. With a healthy functioning nervous system, your body is able to heal and repair itself better, and you can achieve lasting overall wellness.
Family Care
At Carloni Chiropractic Offices Inc., we have been providing outstanding chiropractic care to our patients for over forty years. We are a true family practice, treating patients from infants through the elderly. We also offer gentle adjusting techniques for pregnant women.
NEW PATIENTS

Dr. Carloni's history as an athlete comes through in our practice as well. We treat a large number of athletes of every age and ability level, from pee wee leagues through the pros. Chiropractic care helps optimize athletic performance, facilitates healing after injury and can help prevent injuries in the first place. Keeping you healthy and in the game is our goal.
We offer a variety of adjusting techniques to meet the specific needs of our patients. Our most-used techniques include:
Activator Methods®
Chiropractic BioPhysics®
Diversified
Drop table
Gonstead
Impulse IQ
Therapeutic Modalities
In addition to chiropractic adjustments, we support your healing through a wide range of healing modalities, such as:
Myofascial release
Cupping
Scraping (vibracussor)
Kinesiotaping
Nutrition Counseling/Nutritional Response Testing
Laser therapy
Non-surgical spinal decompression
E-stim
Ultrasound
Foot levelers custom orthotics
We go to great lengths in educating our patients about the benefits of chiropractic for the restoration of health, and we encourage our patients to become active participants in their own health and wellness.
We believe that nutrition is a crucial component to health. As a result of the toxicity in our environment and the lack of nutrients in our food source, many patients experience mineral and vitamin deficiencies as well as muscular and skeletal issues. We incorporate a brief nutrition evaluation in every new patient consultation to let patients know about any possible deficiencies.
Chiropractic care can help keep your nervous system and body functioning at its best, even if you in good health, but it is especially good in helping to alleviate a wide range of symptoms and disorders. Here are just a few of the conditions we successfully treat:

TMJ
Carpal Tunnel
Bursitis
Degenerative Arthritis
Migraines, Headaches, Vertigo, Dizziness, etc
Hip Bursitis
Disc Conditions
Sciatica
Sprains/Strains of shoulder, ankle, wrist, knees, etc.
Tendonitis
Peripheral Neuropathy
Get Care Today
Contact us today to schedule your first appointment. We look forward to welcoming you.
---
Chiropractic Care | (209) 957-1035